About Cricket tots Mornington
 Cricket tots classes teach your child the fundamentals of cricket! Designed for 2 ½ to 5 year old boys and girls, our classes teach your child how to bat, bowl, field, catch and so much more! We've got great coaches, tried-and-tested coaching methods, and offer your little tot the chance to develop a whole host of new skills, all the while having oodles of fun. Book your class today!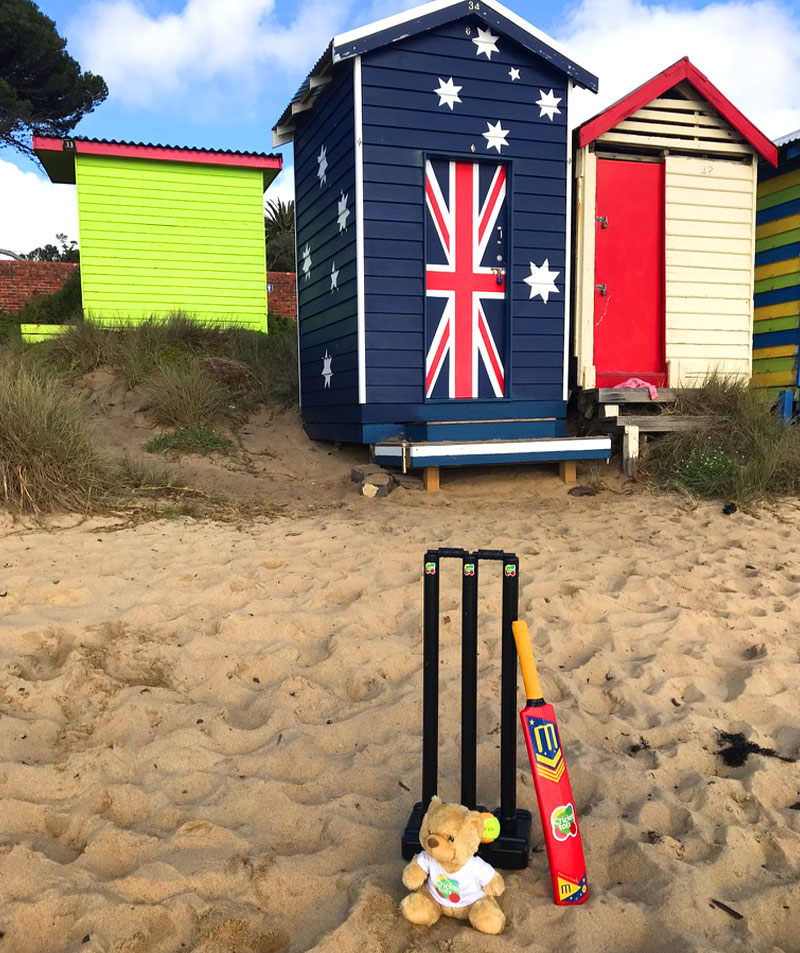 Our Classes
We split our classes by age range, 2½-3½ years old and 3½ to 5 years old, as we feel we can teach the most beneficial classes this way.  Classes are led by hand-picked coaches who are used to working with young children. All classes are held outdoors or indoor depedning on season/weather and last 40 minutes. Each term is eight weeks long and will run all year round. Keep checking back for our new classes which will be announced here very soon! COVID safe measures are in practice.
Cricket skills for children
Each week we work on a range of different cricketing skills. They include batting, catching, bowling and fielding. We develop each skill individually, taking time to develop technical competence from the very first classes.
By moving through a number of different developmental activities in each 40 minute class, even the very smallest of children are able to develop their cricketing abilities.
Our Coaches
When only the best coaches will do! Our Cricket tots classes are taught by fully qualified, friendly and experienced coaches who understand exactly how to get children working and playing together effectively. 
And best of all the founder of Cricket tots International Steve Fitzgerald is the head coach!
Meet the Head Coach & Founder
At Cricket tots Mornington Peninsula, your little ones will be taught by the best in the business! Heading up the organisation is Steve Fitzgerald, who also runs and owns the entire Cricket tots organisation. Steve is a cricket player himself, who fell in love with the game growing up in his native Australia. He moved to the UK and launched Cricket tots after struggling to find great classes for his son, Will. Now back in Oz, Steve is still a huge believer in getting children into sport early, using the classes as a way to grow a child's confidence and social skills.
Cricket tots history
Although Cricket tots was only launched in early 2016, the idea for the classes came about many years beforehand. Steve Fitzgerald is an Aussie cricket player who wanted to share his love of cricket with his son. He couldn't find any classes for him, so he taught him himself!
The best person to share the story is Steve himself so we'll turn this over to him…
"Cricket tots started in 2016. It came into being because we are an active family who love to do things together – and cricket plays a large part of it. Being Australian, it was one of the first things I wanted to coach our son. Everything has grown from there. I'm a huge believer in starting children early because it means that they learn so much more than the technical aspects – they also get to learn about teamwork.
I saw how our son could pick up just about anything – when people say that children are like sponges, I really do know what they mean. He was incredible!
I get as much pride from our classes today as I did coaching William. In particular, I'm particularly proud that a huge percentage of our cricketers are girls. Cricket is definitely not just for boys and the fact that we have a female coach really brings this to life.
If you're reading this and not already taking part in our classes, please get in touch with us – find out about our trials and join in with one soon. I hope you'll come to grow and love being part of the Cricket tots family as much as we love coaching you all. We really do bounce out of bed each morning, looking forward to the things we will learn from the children as much as they learn from us!"
Cricket & child development
We combine individual learning with a multitude of team based activities. Children are well known for their egocentric outlook (one where they cannot understand any viewpoint than their own): Cricket tots helps children begin to understand their relative roles in the world and moreover, the value in seeing things from the perspective of another team member. Of course, the children are not aware of any of these things – in fact sometimes, they'll want to return to the adult which has brought them to class and there's a huge value to a child in knowing that their parent or grandparent is present, encouraging them on in their activity.
In practise, our toddlers and pre schoolers have a whale of a time. Whether they are learning to balance, line up in a row, do high fives at the end of a team talk, collecting balls for re bowling or saying their name for the register – everything is paced appropriately to maintain engagement and interaction.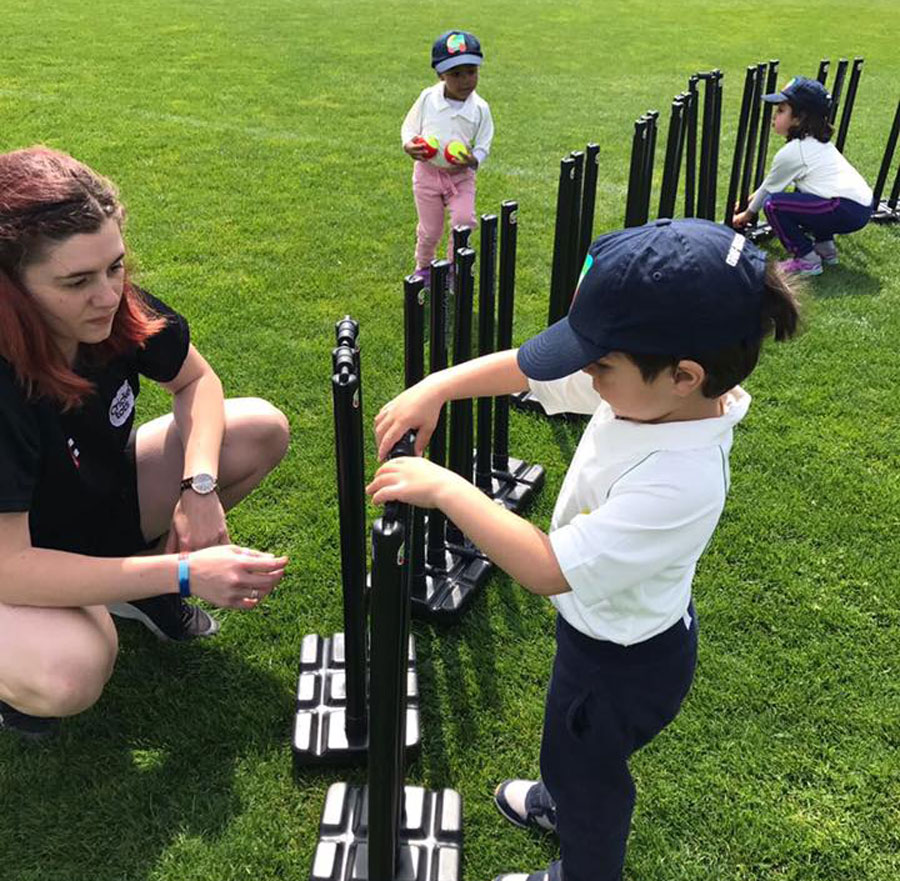 Partnerships and supporters

Our Equipment Supplier – Gray Nicolls
Founded in Cambridge, UK in 1855 by World Rackets Champion and "useful cricketer" Henry John Gray, the company has grown to its present pre-eminent global position, and is proudly still family owned and run by fifth generation Gray family members.
In 1972, a new GRAY-NICOLLS factory was opened in Melbourne to supply the growing demand from the Australian and New Zealand markets. GRAY-NICOLLS remains the only brand to produce bats in the UK and Australia, and the only bat company to control the complete bat making process from planting willow to delivering bats to international superstars like Kane Williamson, Aaron Finch, Jess Jonassen and Beth Mooney. Our bats continue to be crafted using a combination of traditional and innovative methods, resulting in a product of exceptional quality.
For over 160 years, GRAY-NICOLLS has been the brand of choice and in the hands of the very best athletes. From iconic cricketers W.G. Grace, Australia's Matthew Hayden and England's Andrew Strauss, to the rising young talent of Max Bryant and Annabel Sutherland, the powerful position of GRAY-NICOLLS in the marketplace remains undimmed.
GRAY-NICOLLS is the home of TRADITION, INNOVATION AND PERFORMANCE.
Start the innings of a lifetime
Cricket tots teaches the fundamentals of cricket to children between the age of 2 ½ to 5 year olds. Our sessions are well structured, progressive and fun. Our qualified instructors love what they do and are knowledgeable, experienced, enthusiastic and engaging.
Bookings
Enquiries